The KC Royals were on the road for two games in the Cactus League this afternoon (both were played in Mesa). They won at the Chicago Cubs and lost to Oakland. What I love most about split squad games is the amount of minor leaguers that get a chance to play in a big league spring training game. I will mention those guys later.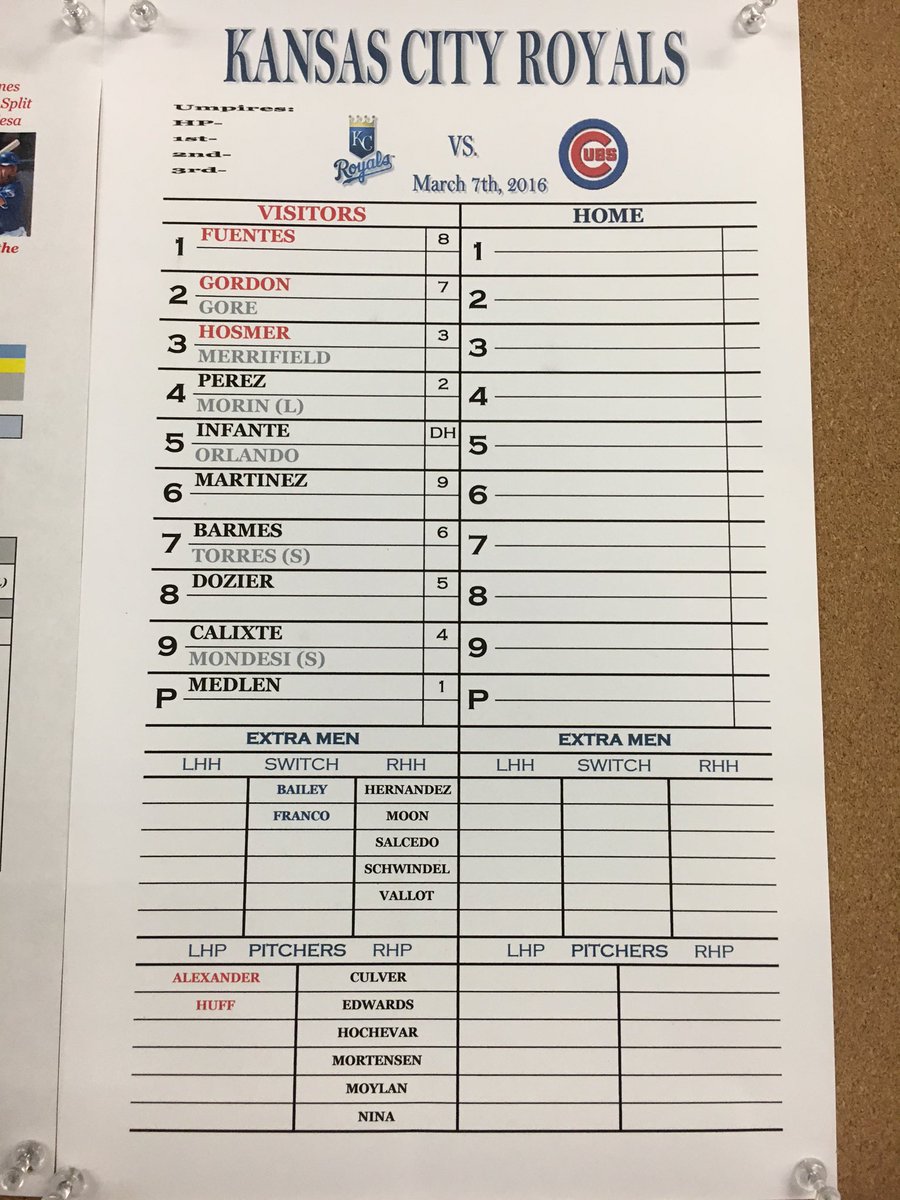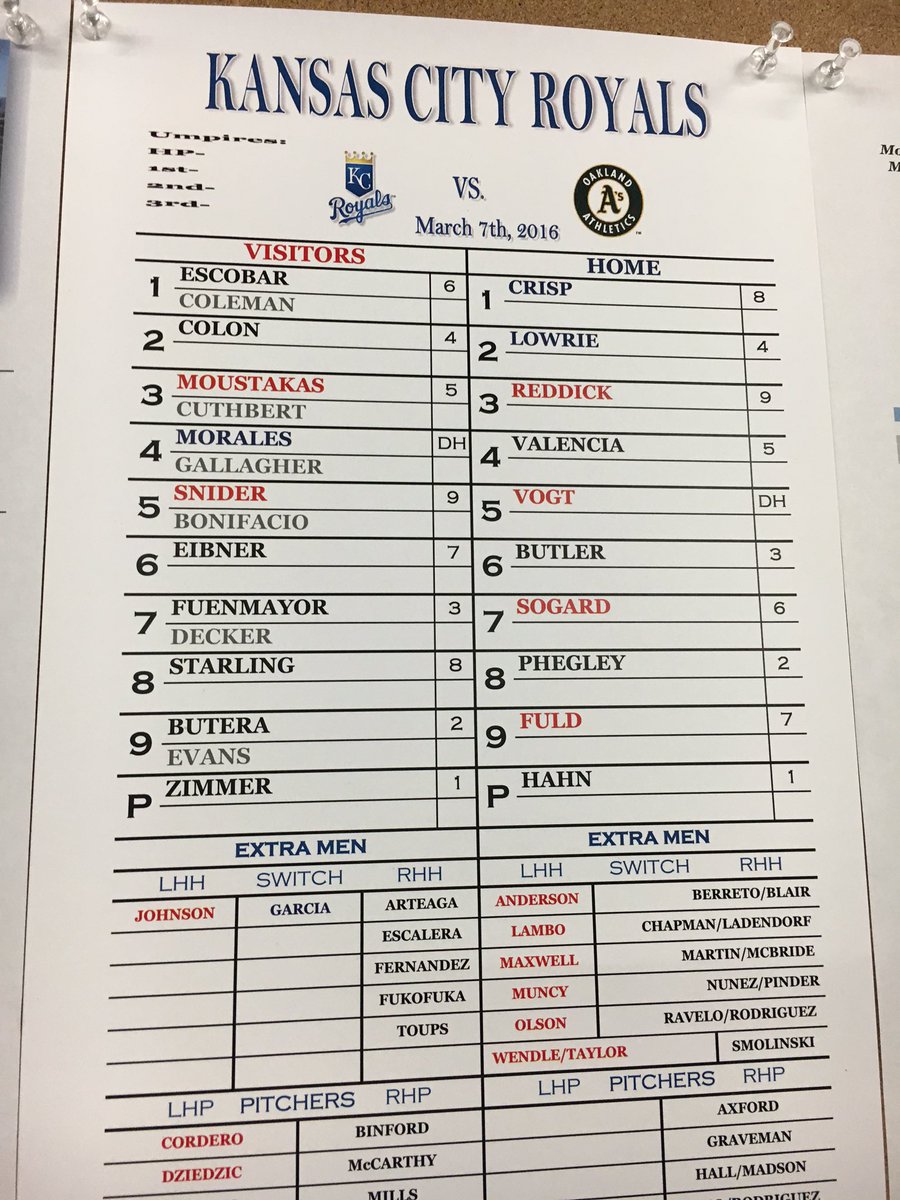 Lineups via Rustin Dodd of the Kansas City Star.
In the 3-2 win against the Cubs, it was a day of debuts.
Omar Infante made his spring debut as the DH. He went 0-for-4. Kris Medlen made his first spring start and did not allow a base runner over two innings of work. He struck out three. Luke Hochevar followed with a scoreless third (a walk).
After David Huff allowed a two out, two-run home run in the fifth (he has now allowed four runs in three outings), the Royals took a 3-2 lead in the top of the sixth to give Huff the victory. With two outs, Eric Hosmer delivered a two-run double. Whit Merrifield pinch ran and scored on Salvador Perez' RBI single.
Peter Moylan pitched a scoreless seventh, but did walk three (he struck out two). Aroni Nina made his second appearance this spring and struck out one in his scoreless inning. Scott Alexander pitched another scoreless inning, giving him three so far this spring.
Malcom Culver earned the save with a perfect ninth (he came over from minor league camp).
In some negative news, Alex Gordon struck out three times. Terrance Gore pinch ran for Perez in the sixth and was caught stealing for the second time this spring. From what I heard, it wasn't even close at second base.
Against the A's, the Royals lost 6-4.
Kyle Zimmer struggled a bit with off speed command. He allowed a run on four hits while striking out two. Zimmer was burned by a diving attempt in right field by Travis Snider on a line drive that went by him (and allowed the run to score).
Sam Selman got a blown save as he allowed a solo home run to Stephen Vogt. He also walked two in the fourth.
It has not been a good spring for Christian Binford. He was once again lit up (and I am still scratching my head as to why they let him go into his third inning of work). He allowed four runs (three earned) on three hits and a walk over 2.2 innings. He allowed a two out, three-run homer to Vogt in the fifth).
The last run he allowed came after he was pulled in the seventh, as Jonathan Dziedzic entered with a runner on base and two outs. Amalani Fukofuka misplayed a single in center that allowed the run to score (Fukofuka struck out to end the game).
The Royals had a 2-0 lead after the first on Mike Moustakas' first homer of the spring. Moose now has three RBIs and is hitting .556 with a 1.822 OPS.
The following minor leaguers played against the A's: Corey Toups (2B, 0-for-1), Mauricio Ramos (3B, 0-for-1), Humberto Arteaga (pinch ran in the eighth), and Alfredo Escalera (LF, 0-for-1).
In both games, the Royals had to face former teammates who helped them win the World Series. Ben Zobrist started at second base for the Cubs, led off, and went 0-for-2 with a walk. Ryan Madson pitched a scoreless third for the A's and struck out Alcides Escobar.