Baseball season has officially begun for me, as the High-A Wilmington Blue Rocks played their home opener tonight. With decent weather (it was windy and chilly, but no rain or snow), the Blue Rocks had over 6,000 in attendance.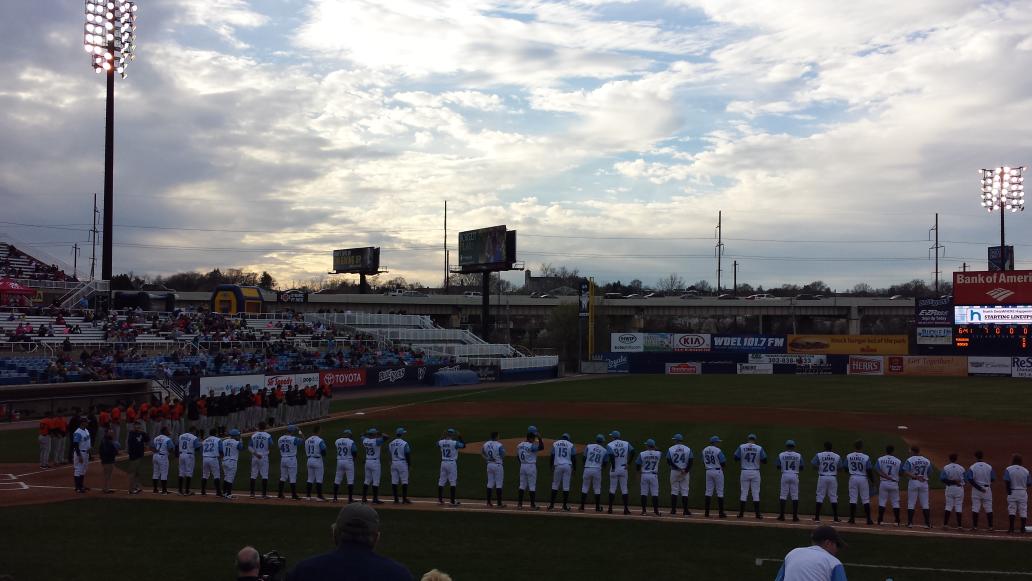 They honored the coaching staffs in attendance with their American League Championship rings (plus roving instructors Milt Thompson and Larry "LC" Carter).
The fans who stayed around were sent home empty.
Against the 6-1 Frederick Keys (a division rival), centerfielder Bubba Starling stepped to the plate with the score tied in the bottom of the ninth. Jack Lopez stood on first base (he singled with one out). On the second pitch of the at-bat, Starling ripped the pitch into the left-centerfield gap to easily drive in Lopez.
Off the bat, I thought "Game Over".
Both teams collected a lot of hits (21 total), but left an army on the bases (2-for-16 combined with runners in scoring position). Lopez, Starling, first baseman Frank Schwindel, and third baseman Mauricio Ramos each had two hits.
The Blue Rocks started Luke Farrell in the home opener. It was his first start of the season after piggy-backing Cody Reed in the second game of the season (in Myrtle Beach).
Farrell was shaky at times, but battled through five innings. He allowed two runs (one earned) on five hits and a walk while striking out seven. The Keys got both runs in the second, the first coming on a double steal. The tie-breaking run came on Anthony Hewitt's (formerly of the Phillies) RBI single. Hewitt was just activated by the team.
Speaking of Reed, he came on in relief in the sixth, throwing 95 mph. He allowed four hits while striking out five over the final four innings.
Starling talked after the game about getting the win and what he has been working on:
*Hopefully I will have photos posted sometime on Friday. If not, they will definitely be up on Saturday.